SUSPENDED (INFOCOM)
THEY SAID YOU WOULD SLEEP FOR HALF A MILLENIUM - NOT AN UNREASONABLE LENGTH OF TIME, CONSIDERING YOU'D BE IN LIMITED CRYOGENIC SUSPENSION. YOUR BODY WOULD REST FROZEN AT THE PLANET'S NERVE CENTRE, AN UNDERGROUND COMPLEX TWENTY MILES BENEATH THE SURFACE. YOUR BRAIN, THEY TOLD YOU, WOULD BE WIRED TO A NETWORK OF COMPUTERS; YOUR MIND WOULD CONTINUE TO OPERATE AT A MINIMAL LEVEL, OVERSEEING MAINTENANCE OF SURFACE-SIDE EQUILIBRIUM. AND YOU WOULD NOT AWAKE, SO THEY PROMISED, UNTIL YOUR FIVE HUNDRED YEARS HAD ELAPSED - BARRING, OF COURSE, THE MOST DIRE EMERGENCY.
INFOCOM TEXT ADVENTURE GAMES ARE ALWAYS OF A HIGH LEVEL OF EXCELLENCE , AND THIS GAME IS NO EXCEPTION. YOU ARE IN A STATE OF CRYOGENIC SUSPENSION AND YOU MUST USE A SERIES OF ROBOTS, EACH ONE ACTING AS ONE OF YOUR SENSES, SIGHT , HEARING, TOUCH, ETC IN AN EFFORT TO SAVE YOUR PLANET FROM DESTRUCTION FOLLOWING A SERIES OF EARTHQUAKES.
A GREAT GAME WHICH WILL KEEP YOU UP TO THE EARLY HOURS!
I AM OVERJOYED, TO SAY THE LEAST, TO HAVE RECENTLY ACQUIRED THE ORIGINAL LARGE WHITE MASK BOX FOR SUSPENDED, NOT ONLY THAT, BUT IT IS STILL SEALED AS WELL!!! RETRO PLATINUM.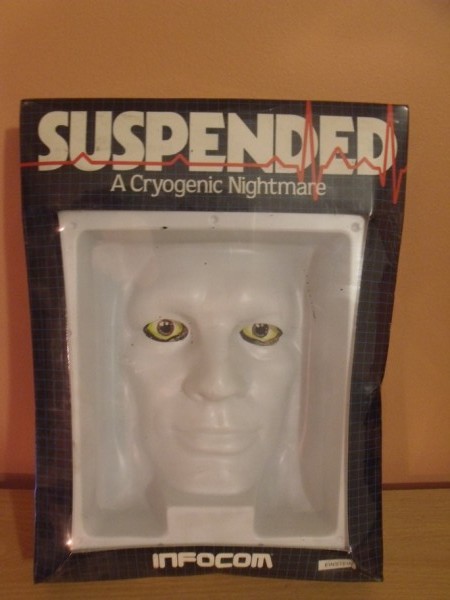 ORIGINAL SEALED 1ST EDITION SUSPENDED BOX!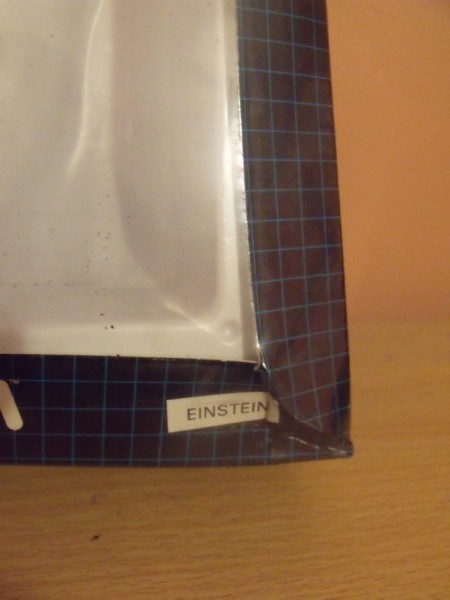 EINSTEIN STICKER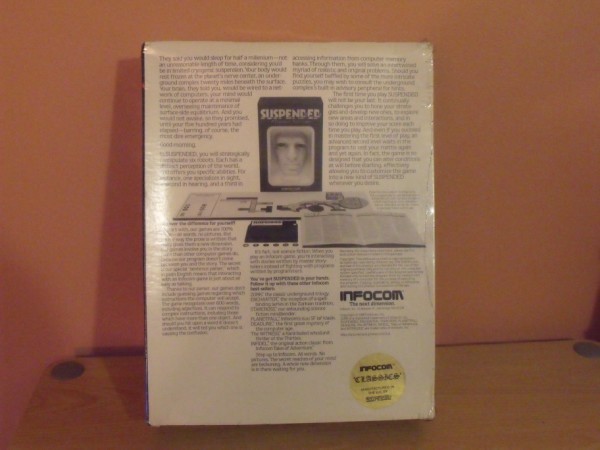 A VIEW OF THE REAR OF THE BOX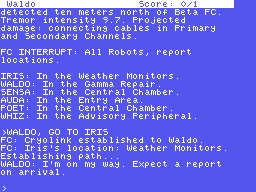 IN GAME SCREENSHOT