RIVER BANDITS (MERLIN)
VIXEN DAMAGE REPORT....FUEL LEAK IN MAIN TANK....LOW FLYING ESSENTIAL.....SHIELD POWER LOW....RECOMMEND AVOIDANCE OF LAND COLLISION....MISSILE GUIDANCE OUT....REAR GUNS OUT....RADIO CONTACT OUT....HAVE A NICE DAY!
GREAT LITTLE GAME WHERE YOU HAVE TO FLY A HELICOPTER WHICH HAS BEEN BADLY DAMAGED THROUGH A SERIES OF OBSTACLES, DESTROYING ANY ENEMIES IN YOUR PATH. AS THE GAME STATES "THIS IS A REAL LIFE SITUATION" SO YOU ONLY GET ONE LIFE - MAKE THE MOST OF IT!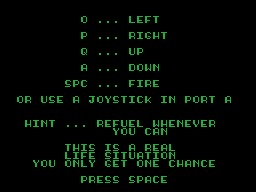 TATUNG EINSTEIN SCREENSHOT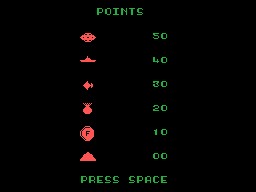 TATUNG EINSTEIN SCREENSHOT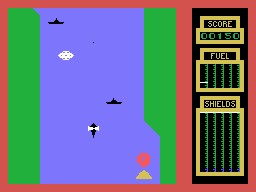 TATUNG EINSTEIN SCREENSHOT