QUANTUM (ORION SOFTWARE)
THE GAME QUANTUM IS IN A SIMILAR MANNER TO SPACE INVADERS, EXCEPT THAT THE INVADERS ATTACK YOU HORIZONTALLY, INSTEAD OF VERTICALLY.
THE OBJECT OF THE GAME IS TO CLEAR EACH SCREEN IN SUCCESSION. ALL THE INVADERS CAN BE KILLED APART FROM THE GHOST, WHICH YOUR SHOTS WILL GO STRAIGHT THROUGH.
OTHER THINGS TO REMEMBER ABOUT THE INVADERS ARE THAT THE TANK CAN ONLY BE DESTROYED BY SHOOTING IT FROM BEHIND. ALSO WHEN THE GRENADE APPEARS ON SCREEN, BEWARE WHEN YOU SHOOT IT! THE SHRAPNEL COMES FLYING TOWARDS YOU.
AN EXTRA LIFE MAY BE ACQUIRED BY SHOOTING A SWASTIKA.
THE GAME ENDS WHEN ALL OF YOUR LIVES HAVE BEEN USED UP, OR YOU CAN END THE GAME BY PRESSING THE LETTER 'S'.
THE GAME IS COMPATIBLE WITH EITHER KEYBOARD OR JOYSTICK.
AN UNUSUAL GAME, ALTHOUGH SIMILAR TO SPACE INVADERS, THE HORIZONTAL TAKE ON THE ACTION MAKES IT QUITE UNIQUE. ALSO VERY UNUSUAL TO SHOOT A SWASTICA OF ALL THINGS FOR AN EXTRA LIFE!
TATUNG EINSTEIN SCREENSHOT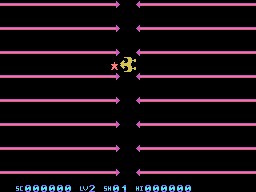 TATUNG EINSTEIN SCREENSHOT