PUNCHY (TATUNG EINSOFT)
PUNCH HAS LOCKED JUDY AWAY IN THE PUNCH & JUDY BOOTH AND JUDY HAS CALLED UPON BRAVE BOBBY TO RESCUE HER. IN TRUE PUNCH AND JUDY TRADITION, YOU GUIDE PC BOBBY OVER THE SCREENS AVOIDING THE OBJECTS THAT ARE THROWN AT YOU. JUMP OVER GAPS IN THE STAGE, LEAP OVER PUNCH HIMSELF AND ALL THE TIME YOU MUST DODGE THE ROTTON TOMATOES AND CUSTARD PIES WHICH ARE THROWN AT PC BOBBY.
WITH PERFECT TIMING, LAND BOBBY ON THE MAGIC CARPET TO AVOID THE ALLIGATORS. AT THE END OF EACH SCREEN A VOICE ASKS YOU TO "ROCK THE BABY" BEFORE MOVING ON.
THIS IS A TRULY GREAT GAME FOR THE EINSTEIN, ONE OF THE FIRST MADE FOR THE MACHINE, BUT DEFINETELY ONE OF THE BEST. AS YOU CAN SEE ABOVE IT INCLUDES SPEECH IN THE GAME WHICH WAS INCORPORATED BEFORE THE SPEECH SYNTHESISER WAS RELEASED.
THIS IS THE ONLY GAME FOR THE EINSTEIN AS FAR AS I AM AWARE THAT UTILISES IN BUILT PROGRAMMED SPEECH.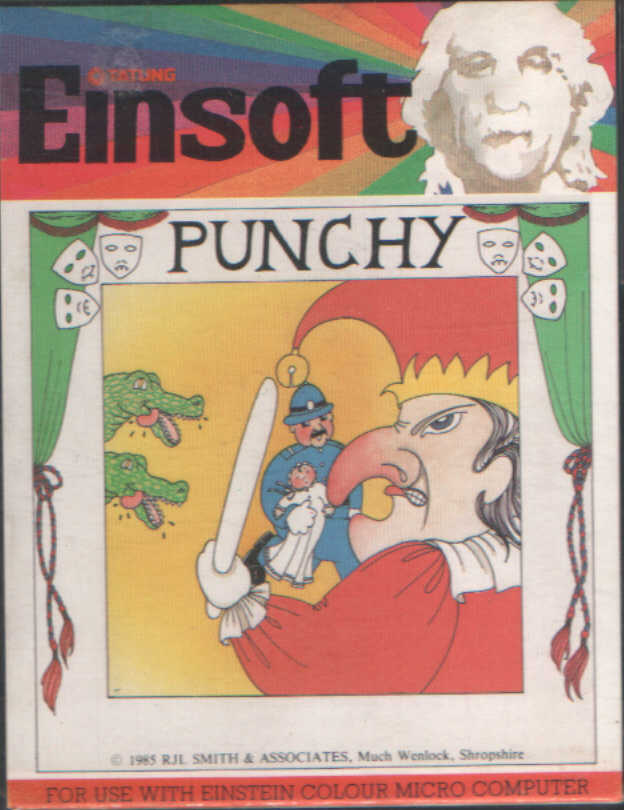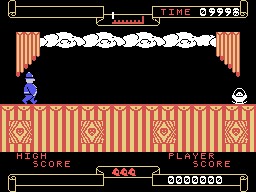 TATUNG EINSTEIN SCREENSHOT