MINER DICK / INTERSTELLA EXPLORER (MERLIN SOFTWARE)
MINER DICK - AS THE NAME SUGGESTS THIS GAME IS VERY SIMILAR TO MANIC MINER IN DESIGN, AND JUST AS ENJOYABLE AND DIFFICULT! IT DOESN'T HAVE THE FINESS AND SHEEN OF MANIC MINER BUT STILL A COMPETENT GAME IN ITS OWN RIGHT.
INTERSTELLA EXPLORER - A GREAT GAME, AND THE EASIEST WAY TO DESCRIBE IT IS ITS A RENAMED VERSION OF "JETPAC" FOR THE SPECTRUM 48K . I FIND ,AGAIN, THAT ITS INCREDIBLY HARD TO GET INTO. GAMES FROM THE 80'S WERE MADE TO LAST!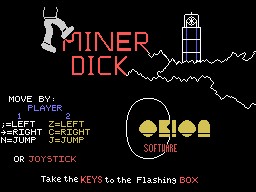 MINER DICK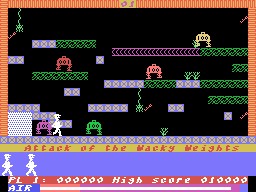 MINER DICK