PAKMAN / MILLIPEDE (KUMA SOFTWARE)
PAKMAN - USING SUPERB GRAPHICS AND SOUND EFFECTS PAKMAN IS FAST AND FURIOUS. YOU ARE THE HUNGRY PAKMAN DEVOURING THE DOTS AROUND A CRAZY MAZE PURSUED BY MARAUDING MONSTERS. IF YOU EAT AN ENERGIZER THE MONSTERS BECOME WEAK AND SLOW - BUT ONLY FOR A SHORT WHILE SO WATCH OUT!
MILLIPEDE - YOU ARE TRAPPED IN A FOREST PURSUED BY A BLIND FEROCIOUS MILLIPEDE. CHOP DOWN THE TREES TO SLOW IT DOWN. WHEN YOU SHOOT THE MILLIPEDE IT WILL SPLIT INTO SEGMENTS UNTIL YOU ARE BEING CHASED BY MULTI-MILLIPEDES. SHOOT IT QUICKLY OR IT WILL MULTIPLY EVEN MORE!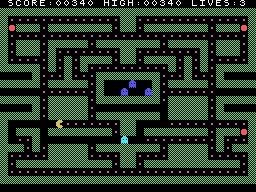 SCREENSHOT FROM "PAKMAN"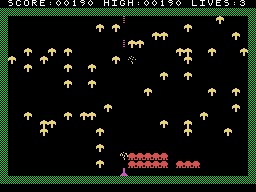 SCREENSHOT FROM "MILLIPEDE"