MATHS TANK & COUNTER BLAST (SOLO SOFTWARE)
MATHS TANK - ARITHMETIC CAN BE FUN IS THE IDEA BEHIND THIS EDUCATIONAL PROGRAM FOR THE 5-9 YEAR OLDS. BY GETTING THE RIGHT ANSWER TO AN ARITHMETIC QUESTION THE PUPIL CAUSES HIS TANK TO FIRE ITS GUN AND KNOCK DOWN A BRICK WALL.
GETTING THE ANSWER WRONG MEANS THAT THERE IS A CHANCE THAT THE TANK WILL BE HIT BY A BOMB THAT IS DROPPED FROM THE TOP OF THE SCREEN . IF THE WRONG ANSWER IS GIVEN THREE TIMES, THEN THE COMPUTER SUPPLIES THE CORRECT ONE .
GOOD GRAPHICS AND SOUND ADDS TO THE APPEAL OF THIS EDUCATIONAL PROGRAM.
COUNTER BLAST - THIS EDUCATIONAL PROGRAM IS AIMED AT THE CHILD BETWEEN 3-8 YEARS OF AGE . THE PUPIL IS SHOWN A SCREEN WITH A NUMBER OF OBJECTS ON IT (SUCH AS FISH, TRAINS, DOGS OR BIRDS).
THE PUPIL IS THEN ASKED TO COUNT THE OBJECTS AND INPUT THE CORRECT NUMBER INTO THE COMPUTER . A RIGHT ANSWER IS REWARDED BY THE OBJETCS BEING BLASTED OFF TO THE SCREEN ONE BY ONE . IF THE WRONG ANSWER IS GIVEN THREE TIMES, THE COMPUTER WILL SUPPLY THE RIGHT ONE .
A SCORE IS GIVEN AT THE END OF THE PROGRAM ALONG WITH THE BEST SCORE OF THE SESSION.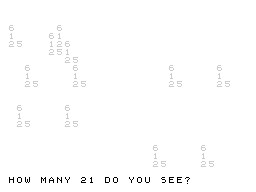 COUNTER BLAST