LAZY JONES (TERMINAL SOFTWARE)
THE GAME LAZY JONES IS A SERIES OF GAMES IN ONE GAME WHERE YOU MUST BECOME LAZY JONES - THE LAZIEST AND MOST SKILLED SHIRKER IN THE BUSINESS WHOSE ONLY AMBITIONS ARE TO IMPROVE HIS GAMES PLAYING AND AVOID WORK AT ALL COSTS.
IN LAZY JONES HOTEL THERE ARE 18 ROOMS, MOST OF WHICH HAVE THEIR OWN COMPUTER GAME WHICH YOU, AS JONES, TAKE EVERY OPPORTUNITY TO PLAY INSTEAD OF CLEANING - OCCASIONALLY HIDING IN THE BROOM CUPBOARD AND TOILET TO AVOID BEING CAUGHT BY YOUR IRATE MANAGER - OR THE GHOST OF THE PREVIOUS MANAGER - OR TO AVOID RUNNING INTO YOUR CLEANING TROLLEY AND HAVING A HEART ATTACK AT THE THOUGHT OF WORK!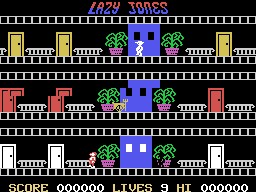 MAIN GAME SCREEN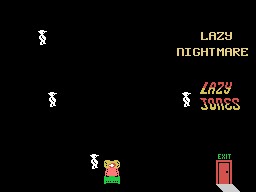 LAZY NIGHTMARE!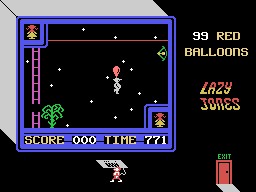 SUB GAME - 99 RED BALLOONS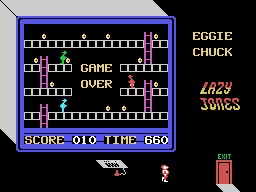 SUB GAME - EGGIE CHUCK!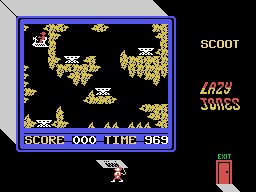 SUB GAME - SCOOT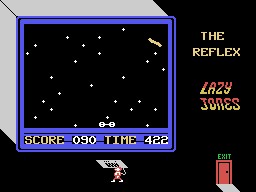 SUB GAME - THE REFLEX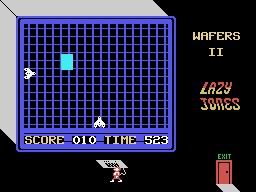 SUB GAME - WAFERS II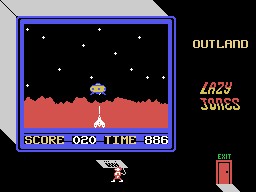 SUB GAME - OUTLAND
AND THERE ARE MANY MORE.... WHAT A GREAT GAME THIS IS!