KONAMI FOUR DISK ARCADE (KONAMI SOFTWARE)

YIE AR KUNG FU - THE IRON FISTS OF LEE THE KUNG FU MASTER CHALLENGE THE EVIL MARTIAL ARTS EXPERTS OF THE DREADED CHOP SUEY TRIAD GANG !
KING'S VALLEY - ANCIENT EGYPT IN THE TIME OF THE PHARAOHS......WHEN THE ROYALTY USED TO BURY UNCOUNTABLE MYSTERIOUS JEWELS WITH THEM IN THEIR GRAVES ! AN ARCHAEOLOGICAL ADVENTURE TRIP TO THE KING'S VALLEY (VALLEY OF THE PHARAOHS) IN SEARCH OF HIDDEN MYSTERY JEWELS IN THE ROYAL TOMBS!
COMIC BAKERY - HERE WE ARE IN A COMPLETELY AUTOMATED BAKERY. BUT WHAT'S THIS??! ! A BUNCH OF TRICKY RACOON DOGS HANGING AROUND TRYING TO SNEAK OFF WITH THE BREAD ! CAN YOU GET JOE THE BAKER TO GUARD HIS BREAD FROM THE RASCALLY RACOON DOGS?
TIME PILOT - YOUR TIME FIGHTER PLACE IS FACED WITH AIR COMBAT IN VARIOUS ERAS OF AERIAL WARFARE . SHOOT DOWN AND DESTROY THE ENEMY AIRCRAFT THAT COME AFTER YOU ! THE ENEMY'S STRATEGY AND COMBAT TECHNIQUES CHANGE FROM ERA TO ERA AS YOU PASS THROUGH THE BIPLANE ERA , THE MONOPLANE ERA , THE HELICOPTER ERA , THE UFO ERA , AND MORE !
THIS IS A FANTASTIC COLLECTION OF GAMES ON ONE DISC . I SPENT MANY AN HOUR PLAYING THESE GAMES, ESPECIALLY "KING'S VALLEY" WHICH IS ONE OF THE MOST ADDICTIVE PROGRAMS I HAVE EVER PLAYED, STILL STANDING THE TEST OF TIME IN GAMEPLAY VALUE .
IT'S ONLY A PITY THAT THIS WAS I THINK THE ONLY GAME CODED BY KONAMI FOR THE TATUNG EINSTEIN, AS THEIR FIRST EFFORT WAS A TRUE GEM.
CLICK HERE TO VIEW DISC BOX COVER INSTRUCTIONS!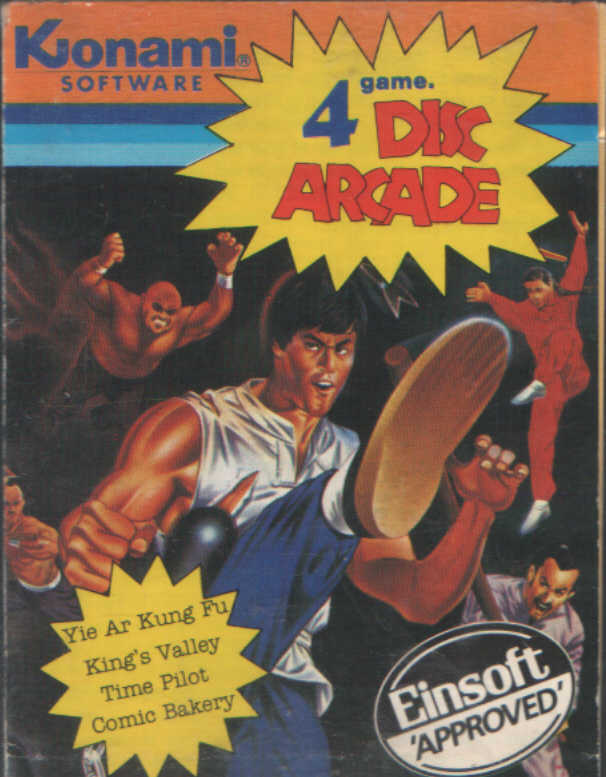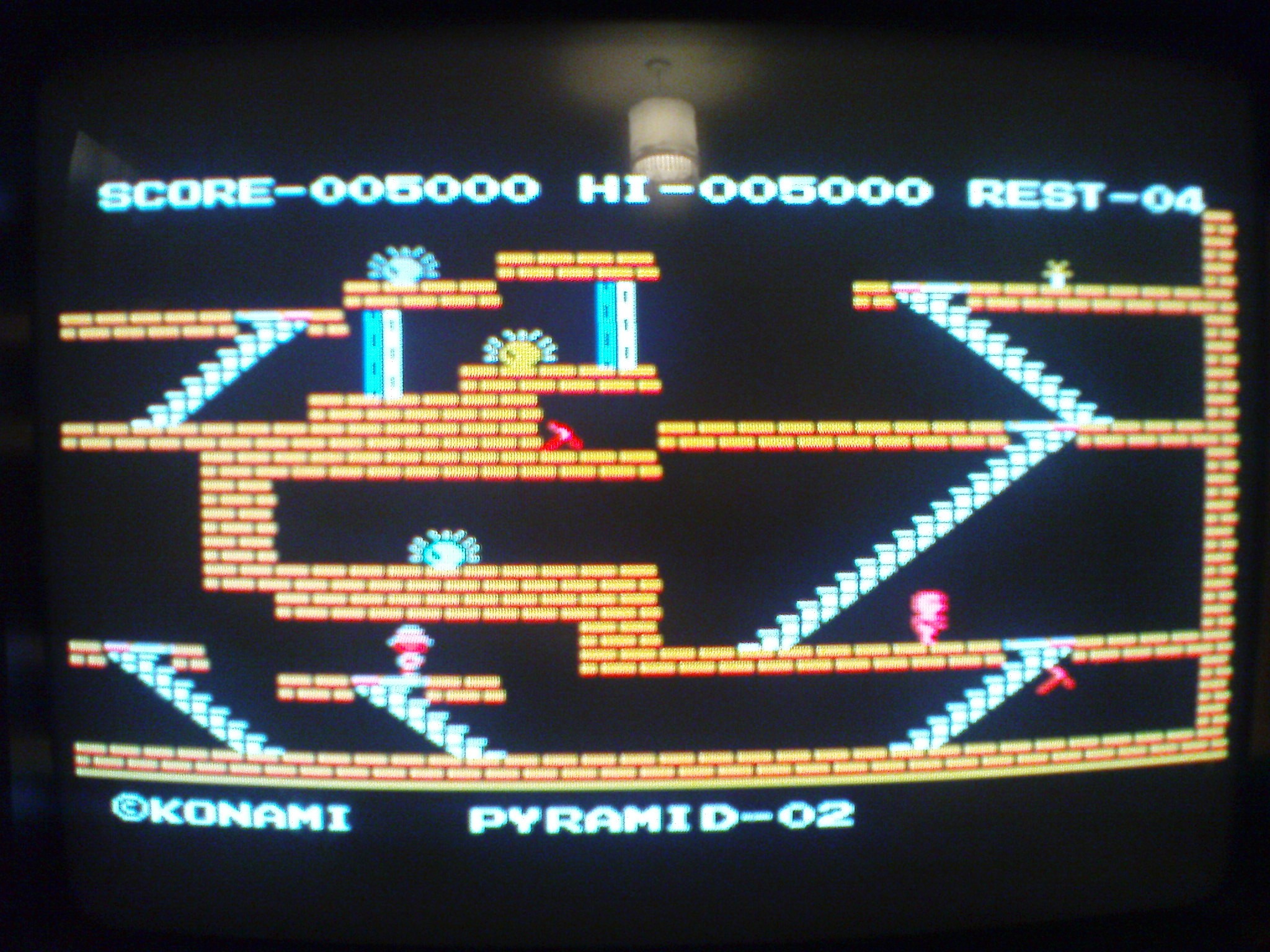 "KINGS VALLEY"- ONE OF THE BEST EINSTEIN GAMES BY FAR!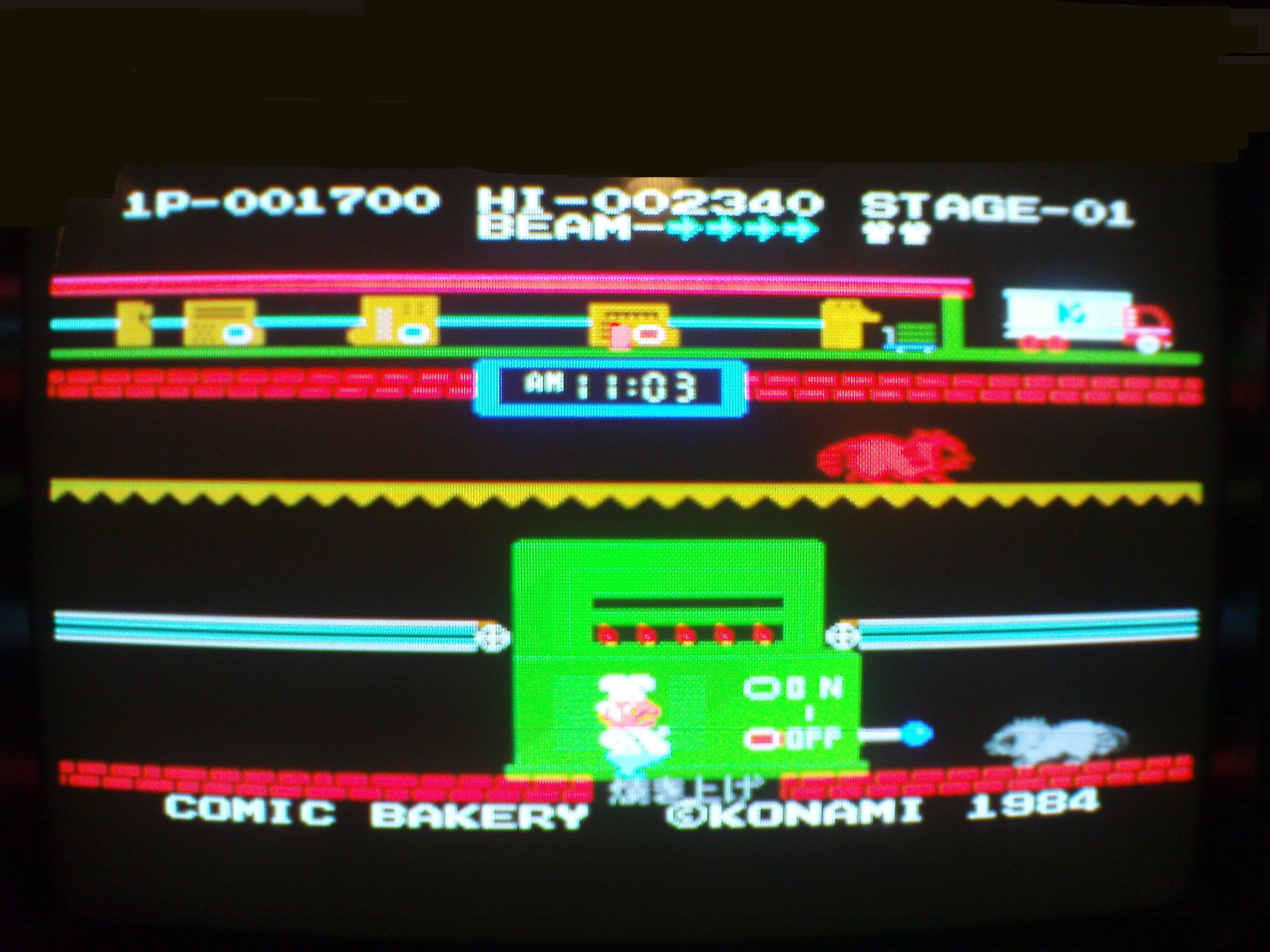 "COMIC BAKERY" - A FUN ADDICTIVE LITTLE GAME
"TIME PILOT" GOOD GAME BUT THE WEAKEST OF THE FOUR
"YIE AR KUNG FU" - A SUPERBLY PROGRAMMED GAME - GREAT FUN!