TOMBS OF KARNAK/ENCOUNTER (SOLO SOFTWARE)
TOMBS OF KARNAK - A COMPLEX GAME OF BATTLES AND DISCOVERY THROUGH A HONEY-COMB LABYRINTH. FIRST YOU ARE ALLOTTED A CHARACTER WHICH WILL DETERMINE YOUR CHANCES IN THE MAZE OF 50 TOMBS. NEXT YOU MUST CONFRONT THE GUARDIAN OF THE TOMBS AND THE QUARTERMASTER WHERE YOU CAN BARTER FOR THE ARMOUR AND WEAPONS THAT YOU WILL NEED. THEN YOU START YOUR JOURNEY THROUGH THE TOMBS OF KARNAK INHABITED BY AN ASSORTMENT OF LETHAL BEINGS WHO YOU MUST AVOID OR KILL. GORY DETAILS OF ALL BATTLES ARE DISPLAYED ON THE SCREEN - NOT FOR THE SQUEAMISH AMONG YOU. CHARACTERS FROM THIS GAME CAN BE SAVED ON DISK FOR USE IN FURTHER ADVENTURES.
ENCOUNTER - A REAL ADVENTURE GAME IN THE TRUE SENSE FOR THOSE WHO WANT A REALLY DIFFICULT AND CHALLENGING GAME. YOUR TASK IS TO LOCATE AND RESCUE A YOUNG MAIDEN WHO HAS BEEN KIDNAPPED AND IS HELD PRISONER IN THE FORBIDDING HOUSE OF DOOM. DURING YOUR MISSION, YOU WILL HAVE TO DEAL WITH VICIOUS THUGS, FEROCIOUS GUARD DOGS AND A SOPHISTICATED ALARM SYSTEM. A LIVELY, CREATIVE MIND IS ESSENTIAL TO COMPLETE THIS GAME., TOGETHER WITH A LARGE AMOUNT OF PATIENCE.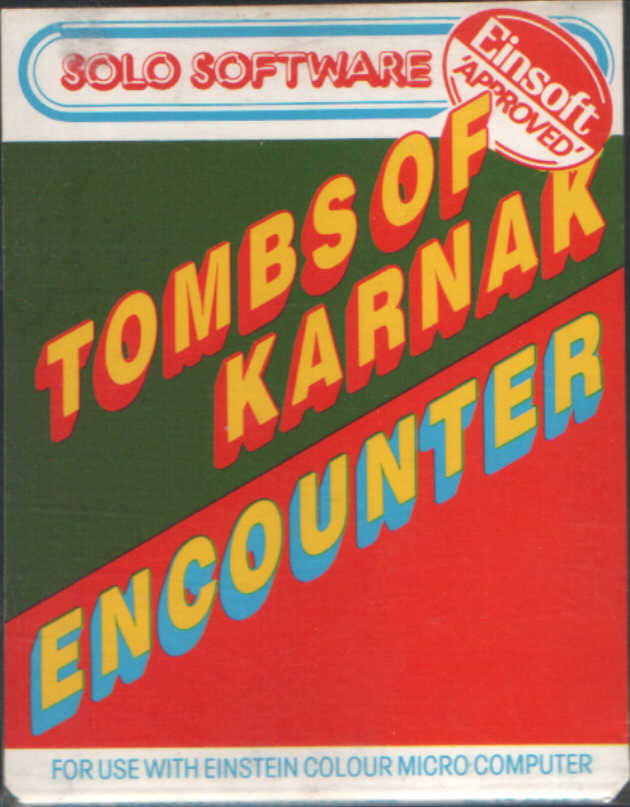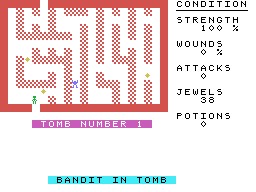 TOMBS OF KARNAK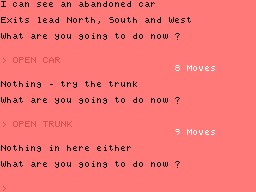 ENCOUNTER