JET SET WILLY / HARVEY SMITH SHOW JUMPER - SOFTWARE PROJECTS
JET SET WILLY
MINER WILLY, INTREPID EXPLORER AND NOUVEAU-RICHE SOCIALITE, HAS BEEN REAPING THE BENEFITS OF HIS FORTUNATE DISCOVERY IN SURBITON. HE HAS A YACHT, A CLIFF-TOP MANSION, AN ITALIAN HOUSEKEEPER AND A FRENCH COOK, AND HUNDREDS OF NEW FOUND FRIENDS WHO REALLY KNOW HOW TO ENJOY THEMSELVES AT A PARTY.
HIS HOUSEKEEPER, MARIA, HOWEVER, TAKES A VERY DIM VIEW OF ALL HIS REVELLRY, AND FINALLY AFTER A PARTICULARLY BOISTEROUS THRASH SHE PUTS HER FOOT DOWN. WHEN THE LAST OF THE LOUTS DISAPPEARS DOWN THE DRIVE IN HIS ASTON MARTIN, ALL WILLY CAN THINK ABOUT IS CRASHING OUT IN HIS FOUR-POSTER. BUT MARIA WON'T LET HIM INTO HIS ROOM UNTIL ALL THE DISCARDED GLASSES AND BOTTLES HAVE BEEN CLEARED AWAY.
CAN YOU HELP WILLY OUT OF HIS DILEMMA? HE HASN'T EXPLORED HIS MANSION PROPERLY YET (IT IS A LARGE PLACE AND HE HAS BEEN VERY BUSY) AND THERE ARE SOME STRANGE THINGS GOING ON IN THE FURTHER RECESSES OF THE HOUSE ( I WONDER WHAT THE LAST OWNER WAS DOING IN HIS LABORATORY THE NIGHT HE DISAPPEARED). YOU SHOULD MANAGE O.K. THOUGH YOU WILL PROBABLY FIND SOME LOONIES HAVE BEEN UP ON THE ROOF AND I WOULD CHECK DOWN THE ROAD AND ON THE BEACH IF I WAS YOU. GOOD LUCK AND DON'T WORRY, ALL YOU CAN LOSE IN THIS GAME IS SLEEP!
HARVEY SMITH SHOWJUMPER
IN THIS GAME THERE ARE TWELVE DIFFERENT COURSES AVAILABLE FOR YOU TO TACKLE, EACH PRESENTING ITS OWN PROBLEMS. YOU MIGHT FALL OFF, REFUSE A JUMP, KNOCK A FENCE DOWN OR EVEN BE ELIMINATED FOR JUMPING A WRONG FENCE. IT'S ALL UP TO YOU. TELL THE HORSE TO WALK, CANTER, GALLOP, TURN OR JUMP WHEN YOU WANT HIM TO.
ALL THE THRILLS (AND SPILLS) STRAIGHT FROM HICKSTEAD! THAT'S NOT ALL, IF YOU WANT TO TRY SOME NEW OBSTACLES YOU CAN SIMPLY AND EASILY DESIGN NEW COURSES FOR YOURSELF, WITHOUT ANY PROGRAMMING KNOWLEDGE NEEDED. YOU CAN DECIDE WHERE YOU WANT THE WALLS, GATES OR ANY OF THE DIFFERENT TYPES OF FENCES AVAILABLE.
UP TO SIX RIDERS MAY COMPETE, EACH REPRESENTING A DIFFERENT COUNTRY, WITH THE SCORES BEING UPDATED ON THE "MASTER SCOREBOARD" AS EACH ROUND IS COMPLETED. ALL FAULTS ARE RECORDED AUTOMATICALLY, NOT FORGETTING THAT THE CLOCK IS TICKING AWAY ALL THE TIME AS WELL. THERE IS ALSO A "HI-SCORE SCOREBOARD" FOR EACH COURSE.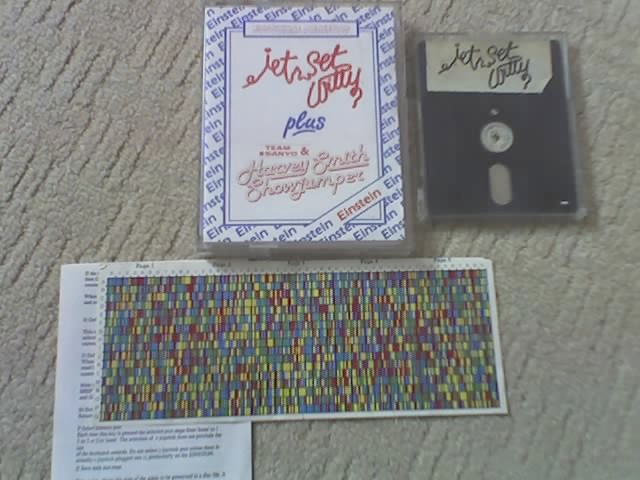 ORIGINAL EINSTEIN BOX AND CONTENTS
SCREENSHOT FROM JET SET WILLY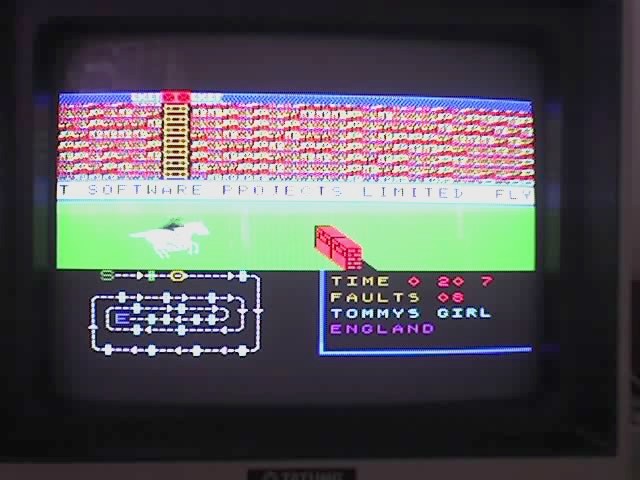 SCREENSHOT FROM HARVEY SMITH SHOWJUMPING