MANIK PANIK/GALAXOIDS (SOLO SOFTWARE)
MANIK PANIK : HOW LONG CAN YOU SURVIVE IN THE MULTI-STOREY BUILDING FILLED WITH ALIEN BUGS. THIS MACHINE CODE PROGRAM ACCURATELY SIMULATES THE ARCADE GAME WHERE YOU CLIMB LADDERS AND DIG HOLES TO CATCH THE ALIENS THEN FILL THEM IN AGAIN ONCE THEY ARE CAUGHT. THE RED ONES MUST FALL THROUGH ONE FLOOR, THE GREEN ONES TWO FLOORS AND WHITE ONES, THREE FLOORS. RED ALIENS WHO HAVE TIME TO DIG THEMSELVES OUT GET RATHER CROSS AND BECOME GREEN. PANIC!!
GALAXOIDS : A HIGH-SPEED MACHINE-CODE VERSION OF POPULAR ARCADE GAME WHERE THE MASSED SPACE INVADERS MUST BE CLEARED FROM THE SKIES. AFTER A FEW SECONDS THEY WILL BEGIN TO SWOOP AND DIVE AT YOU, SHOWERING YOU WITH SCATTER BOMBS AS THEY GO. THE GAME BECOMES PROGRESSIVELY MORE DEMANDING AS YOU KILL MORE AND MORE OF THE MARAUDING ALIENS. VERY ENTERTAINING - HOURS OF FUN!!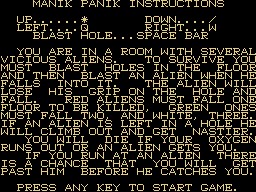 MANIK PANIK INTRODUCTORY SCREEN
MANIK PANIK SCREENSHOT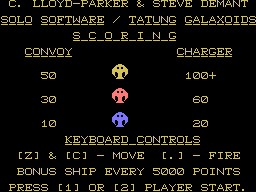 GALAXOIDS INTRODUCTORY SCREEN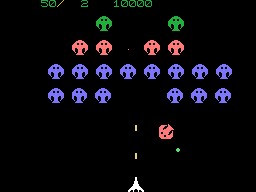 GALAXOIDS SCREENSHOT