FU KUNG IN LAS VEGAS (TATUNG EINSOFT)
THE FIRST IN A TRILOGY OF GAMES ESPECIALLY WRITTEN FOR THE EINSTEIN COMPUTERS. YOU CONTROL THE CHARACTER FU-KUNG AS HE WANDERS AROUND MANY SCREENS OF HAZARDS COLLECTING THE PLAYING CARDS. THERE ARE 16 SCREENS OF HAZARDOUS OBJECTS TO NEGOTIATE IN THIS MULTI-SCREEN PLATFORM GAME. JUST SOME OF THE OBJECTS THAT YOU HAVE TO CONTEND WITH ARE BOMBS, ESCALATOR'S, LADDERS, DISINTERGRATING PLATFORMS, LASER BEAMS AND CRUSHING PRESSES.
BLIMEY - THIS IS ONE OF THE HARDEST GAMES I HAVE EVER PLAYED! NO MATTER HOW HARD I TRIED I COULDN'T EVEN GET PAST THE FIRST SCREEN (PICTURED BELOW). TOO DIFFICULT PERHAPS?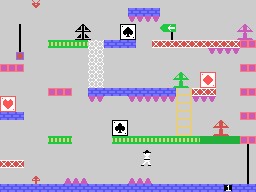 THE HARDEST GAME ON THE PLANET!