FLIGHT PATH 737 (ANIROG)
AS THE PILOT OF THIS HIGH PERFORMANCE JET AIRLINER YOU MUST TAKE OFF FROM AN AIRFIELD SURROUNDED BY HIGH MOUNTAINS AND HAVING CLIMBED YOUR AIRCRAFT SAFELY OVER THEM, PREPARE YOURSELF AND THE JET FOR A LANDING AT AN AIRFIELD IN THE VALLEYS BELOW.
WHEN YOU'RE READY YOU WILL BE ASKED TO SELECT A LEVEL OF FLYING EXPERIENCE RANGING FROM FIRST SOLO TO TEST PILOT. START WITH THE FIRST SOLO WHERE THE MOUNTAIN RANGE IS NOT VERY HIGH, AND WHERE YOU WILL NOT RECEIVE ENGINE FIRES, CROSSWINDS OR OTHER HAZARDS, AND WHERE THE AIRCRAFT CAN ACCEPT A FAIRLY HEAVY LANDING.
A COMPETENT GAME HOWEVER IF YOU MAKE ONE TINY MISTAKE (EASY TO DO ! ) THE SCREEN WILL GO BLACK IMMEDIATELY AND IT'S GAME OVER . HIGHLY IRRITATING !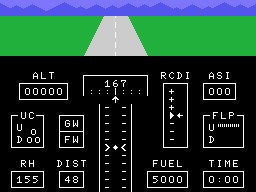 HAS ANYONE EVER SUCCESSFULLY COMPLETED A FLIGHT OUT THERE?!