DRUID (MERLIN SOFTWARE)
UNTIL NOW , THE BALANCE OF POWER HAS BEEN HELD AND PEACE MAINTAINED THROUGHOUT BELORN . BUT NOW, FOUR DEMON PRINCES HAVE APPEARED THROUGH AN INTER-DIMENSIONAL GATEWAY IN THE DUNGEONS OF THE EVIL LICH ACAMANTOR .
THE TASK OF DESTROYING THE PRINCES AND CLOSING THE GATEWAY HAS FALLEN ON YOU , LAST OF THE GREAT DRUIDS.
THE DEMON PRINCES ARE TO BE FOUND LURKING IN THE DARKEST DEPTHS OF THE DUNGEONS , AND CAN ONLY BE DESTROYED BY USE OF YOUR MOST POWERFUL SPELL , WHICH MUST , IN THIS CASE , BE TRANSMITTED BY TOUCH.
THROUGHOUT THE DUNGEON , YOU WILL FIND CHESTS CONTAINING SPELLS OF FORMIDABLE POWER TO AID YOU IN YOUR QUEST AND PENTOGRAMS OF LIFE , WHICH WILL FULLY REVITALIZE YOUR LIFE ESSENCE . USE THESE RESOURCES WISELY IN ORDER TO SURVIVE THE CONSTANT ONSLAUGHT OF THE HELL-SPAWNED DIMENSIONAL MONSTERS AND FACE THE DEMON PRINCES .
SUCCEED, AND YOU MAY ATTAIN THE ULTIMATE LEVEL OF LIGHT MASTER , GREATEST OF ALL DRUIDS. FAIL AND BECOME NO MORE THAN A HALFWIT, YOUR CAPTIVE SOUL JOINING THE MANY GHOSTS OF THOSE WHO HAVE PRECEDED YOU, LOST IN ACAMANTOR'S DUNGEONS.
THIS IS A GREAT GAME , ONE OF MY PERSONAL FAVOURITES. GREAT BOX COVER ARTWORK AND A VERY ADDICTIVE AND PLAYABLE GAME TO BOOT. A LOT OF TIME WAS PUT INTO THIS ONE .
THE LOADING SCREEN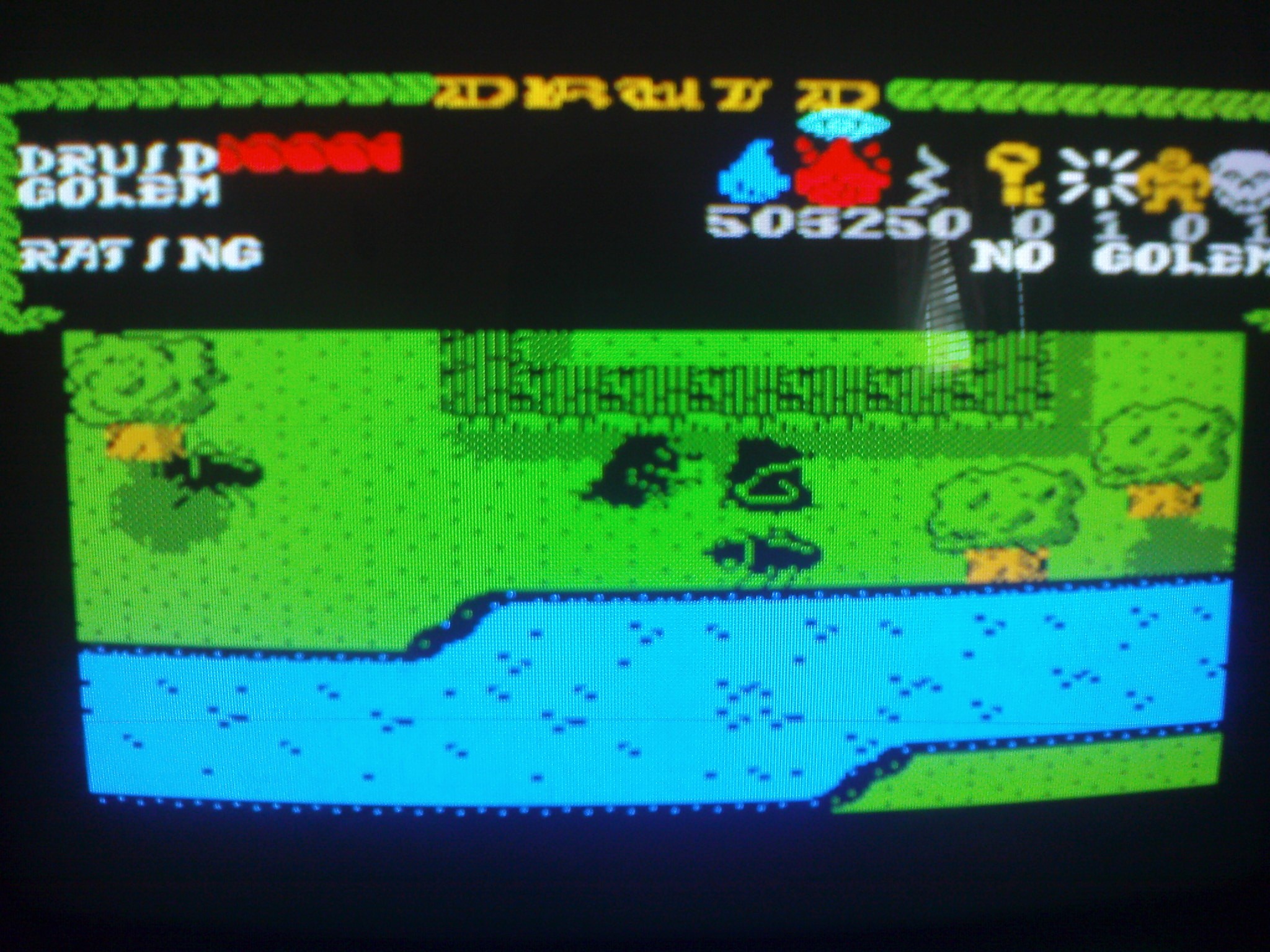 UNDER ATTACK STRAIGHT AWAY!
AHA... I WONDER WHAT TREASURE THIS CHEST WILL HOLD....
I'VE JUST CONJURED UP MY FIRST GOLEM!
A PENTAGRAM! NOW WHAT THE HELL DO I DO WITH THIS AGAIN?