CHUCKIE EGG (TATUNG EINSOFT)
FARMYARD ARCADE STYLE GAME (1-4 PLAYERS)
YOU ARE HEN HOUSE HARRY. THE OBJECT IS TO COLLECT ALL TWELVE EGGS FROM EACH HEN HOUSE , JUMPING OFF LEDGES AND RUNNING UP LADDERS TO AVOID THE NASTY DUCKLINGS. YOU CAN ALSO JUMP ONTO THE MOVING LIFTS BUT MAKE SURE YOU GET OFF BEFORE YOU SMASH YOUR HEAD AGAINST THE ROOF !
IF YOU'RE GOOD ENOUGH TO REACH SCREEN NINE MOTHER DUCK ESCAPES FROM HER GOLDEN CAGE AND FOLLOWS NO RULES AS SHE HEADS STRAIGHT FOR YOU !
THIS IS ONE OF THE FIRST GAMES MADE FOR THE TATUNG EINSTEIN. BRILLIANTLY PROGRAMMED AND HIGHLY ADDICTIVE !
TIP : IF YOU PRESS ALL THE KEYS YOU ARE USING TO PLAY AT THE SAME TIME , YOU SKIP UP TO THE NEXT LEVEL . GREAT !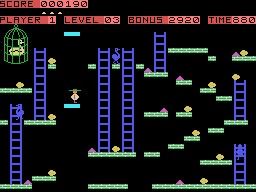 TATUNG EINSTEIN SCREENSHOT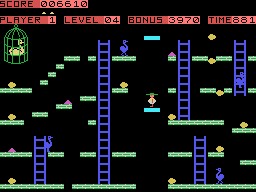 TATUNG EINSTEIN SCREENSHOT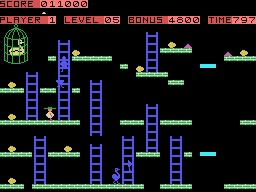 TATUNG EINSTEIN SCREENSHOT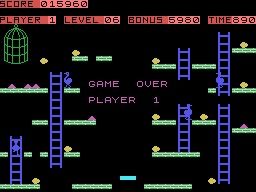 TATUNG EINSTEIN SCREENSHOT