BUZZ OFF / SHARK HUNTER (ELECTRIC SOFTWARE)
BUZZ OFF
BERTIE THE BEE HAS A SWEET TOOTH - HE JUST LOVES FRUIT! SO MUCH SO THAT HE'S EVEN PREPARED TO BRAVE THE PERILS OF THE ENCHANTED ORCHARD. THE ONLY TROUBLE IS WHEN BERTIE'S ON A BINGE HE FORGETS TO LOOK WHERE HE'S GOING.
JUST TO MAKE MATTERS WORSE, EVERY TIME HE EATS A FRUIT, A SEGMENT OF SPIDER'S WEB TAKES ITS PLACE. HELP BERTIE BY GUIDING HIM AROUND THE WEB AND AWAY FROM THE EDGE OF THE SCREEN. MUNCH ENOUGH FRUIT AND BERTIE IS ALLOWED INTO THE SPIDER'S LARDER. WITH ITS LEGENDARY GOLDEN FRUIT. HE ALSO WINS SECOND HELPINGS IN THE ORCHARD.
GOOD PLAYABILITY AND GRAPHICS MAKE THIS AN ENJOYABLE GAME THAT YOU'LL COME BACK AND PLAY AGAIN.
SHARK HUNTER
LIFE'S HARD FOR AN ESKIMO FISH FARMER. JUST WHEN YOU THINK IT'S GOING TO BE A GOOD HARVEST, ALONG COME HE SHARKS, RIPPING DOWN YOUR NETS AND DEVOURING THE FISH. IF YOU'RE LUCKY YOU CAN KEEP THEM AT BAY FOR A WHILE WITH YOUR TRUSTY HARPOON BUT SOONER OR LATER YOU'LL HAVE TO GET INTO THE WATER TO MEND THE NETS.
COLD AND WEARY, YOU HEAVE YOURSELF BACK ONTO DRY LAND, FINGERS ACHING FROM KNOTTING WET ROPE. ONLY TO DISCOVER THAT IT'S THE ICE FLOW SEASON AGAIN.
ON AND ON, DAY AFTER DAY, YOUR ONLY HOPE IS TO TRY TO KEEP ENOUGH FISH ALIVE UNTIL WINTER, WHEN YOU CAN SNATCH A WELL-EARNED REST. BEFORE YOU KNOW IT, ALONG COMES SPRING AGAIN AND YOU'RE HARD AT WORK. UP AND DOWN THE RIVER BANKS, LEAPING FROM ONE ICE FLOW TO ANOTHER.
LOSE CONCENTRATION AND YOU COULD END UP AS SHARK-BAIT. KEEP YOUR HEAD AND YOU EARN THE NAME OF SHARK HUNTER!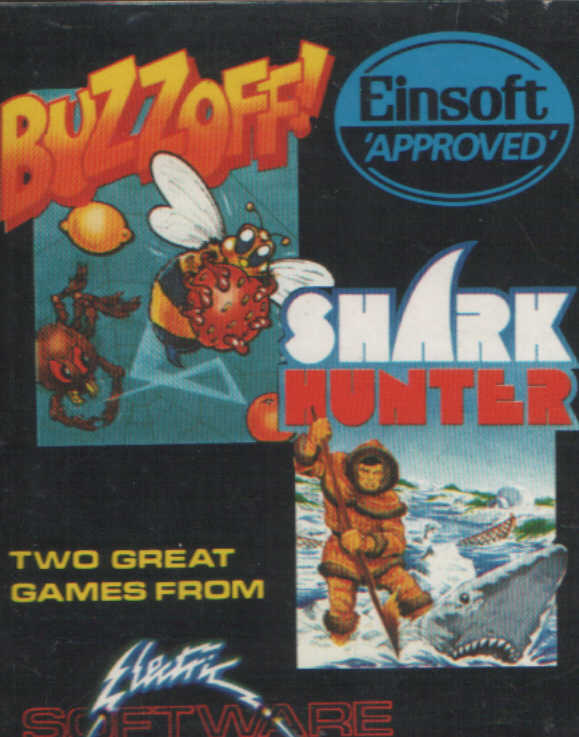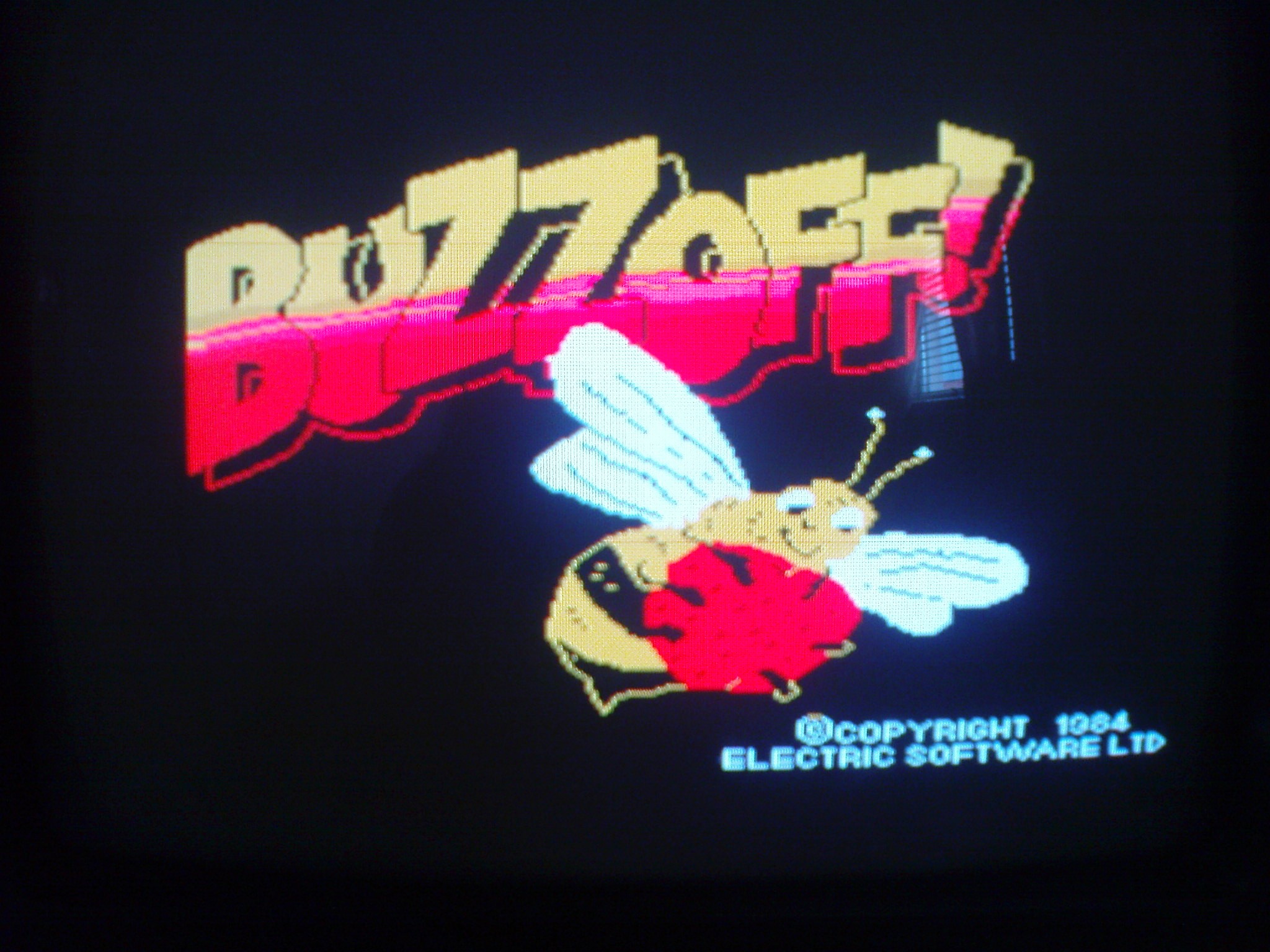 SCREENSHOT FROM "BUZZ OFF"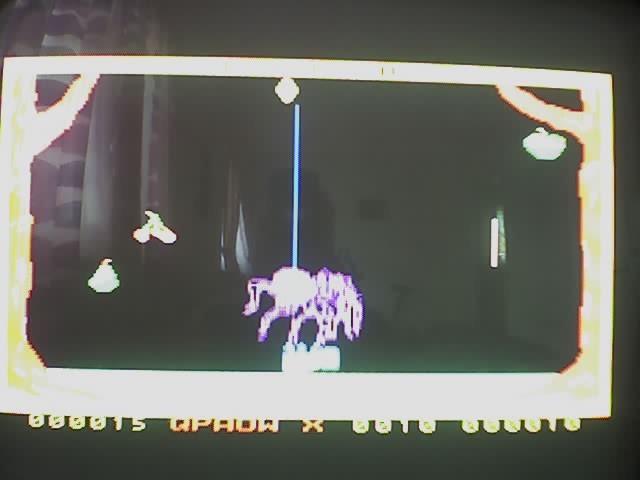 SCREENSHOT FROM "BUZZ OFF"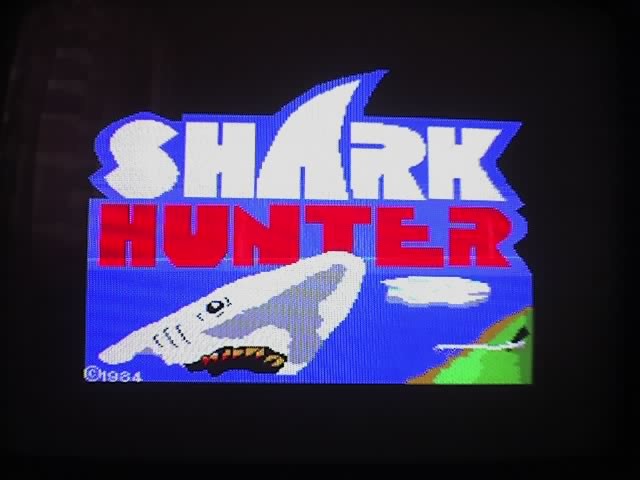 SCREENSHOT FROM "SHARK HUNTER"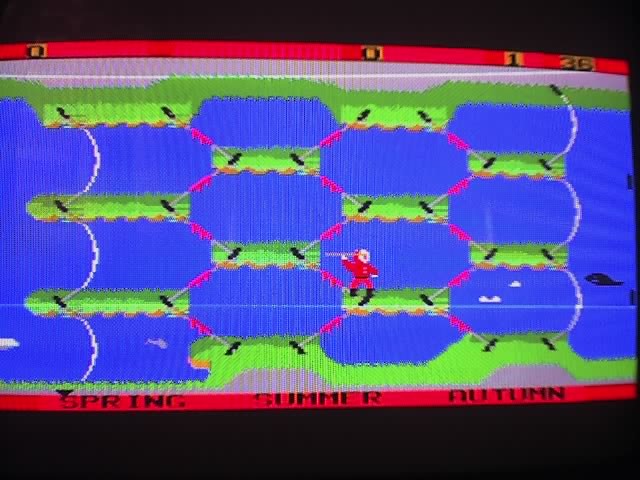 SCREENSHOT FROM "SHARK HUNTER"