SOUTHERN BELLE (HEWSON CONSULTANTS LTD)
A REALISTIC SIMULATION OF A KING ARTHUR CLASS STEAM LOCOMOTIVE HAULING A PASSENGER TRAIN FROM LONDON TO BRIGHTON DURING THE EARLY 1930s.
THE TASK BEFORE YOU IS TO TAKE A STEAM LOCOMOTIVE AND ITS TRAIN FROM LONDON (VICTORIA) TO BRIGHTON. YOU MUST TAKE THE ROLES OF BOTH FIREMAN AND DRIVER. THERE ARE MANY LEVELS OF PLAY AND WE SUGGEST YOU READ THE INSTRUCTIONS CAREFULLY, THEN WATCH THE COMPUTER DEMONSTRATION FOR A FEW MINUTES.
STUDY THE CONTROL SETTINGS AND THEN ATTEMPT THE TRAINING RUN. GRADUALLY YOU WILL IMPROVE YOUR SKILL AND EVENTUALLY YOU WILL BE ABLE TO TAKE THE SOUTHERN BELLE TO BRIGHTON IN ACCORDANCE WITH THE TIMETABLE USING THE COAL AND WATER AVAILABLE TO THE OPTIMUM EFFICIENCY.
IT IS WHAT IT IS - AN OLD TRAIN SIMULATOR - OKAY IF YOU LIKE THAT SORT OF THING! STILL, A RARE TITLE TO FIND FOR THE TATUNG EINSTEIN. INLAY COVER FOR THE TATUNG EINSTEIN VERSION WAS TAKEN DIRECTLY FROM THE AMSTRAD CPC464 CASSETTE INLAY.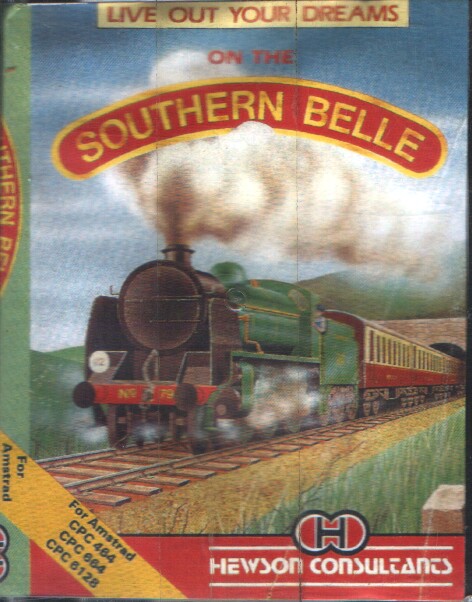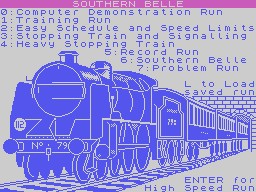 OPENING MENU OF TATUNG EINSTEIN VERSION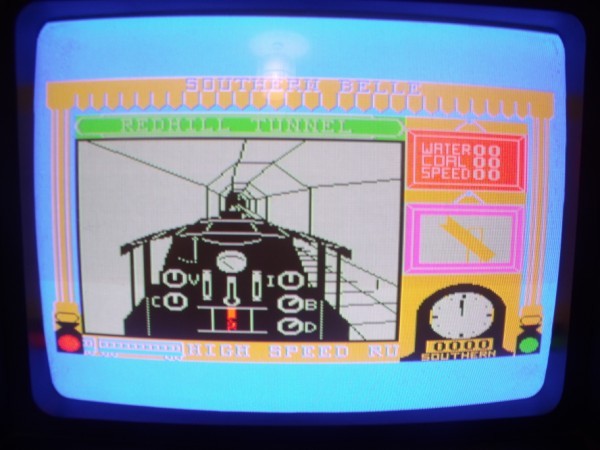 SCREENSHOT FROM TATUNG EINSTEIN VERSION