BASIC TUTORIAL (SOLO SOFTWARE)
FOR THE BEGINNER OR MORE EXPERIENCED PROGRAMMER, THIS TUTORIAL IS A FULL DISK-BASED LEARNING SYSTEM TO HELP YOU GET THE MOST FROM YOUR EINSTEIN. ALL COMMANDS ARE SIMPLY EXPLAINED, WITH EXAMPLE PROJECTS GIVEN WHERE THEY WILL BE HELPFUL.
FILE HANDLING IS JUST ONE OF THE POTENTIALLY CONFUSING AREAS THAT ARE FULLY COVERED.
TATUNG EINSTEIN SCREENSHOT
TATUNG EINSTEIN SCREENSHOT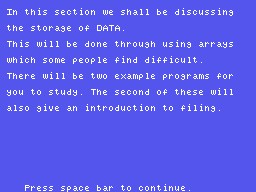 TATUNG EINSTEIN SCREENSHOT