ALICE AND THE MARCH HARE (ORION SOFTWARE)
THIS IS A FULLY INTERACTIVE, MACHINE CODE, TEXT ADVENTURE GAME. YOU, AS THE PLAYER, TAKE THE PART OF ALICE AND EXPLORE THE FASCINATING WORLD OF WONDERLAND.
DELVE DEEP INTO EXCITING TUNNELS, CAVES AND WELLS IN SEARCH OF TREASURE BUT ALL IS NOT AS IT SEEMS AS YOU USE YOUR SKILL, LOGIC AND INTUITION TO OVERCOME OBSTACLES.
EXTRA FEATURES CAN BE OBTAINED BY TYPING :
CURSOR OFF | CURSOR ON | BEEP OFF | BEEP ON | SAVE | LOAD
NOT A BAD LITTLE ADVENTURE GAME FOR THE TATUNG EINSTEIN - RECENTLY ACQUIRED, THIS IS A LESSER KNOWN TITLE FOR THIS GREAT MACHINE. A WELL PRESENTED GAME AND SHOULD BE INTERESTING TO GIVE IT A WHIRL.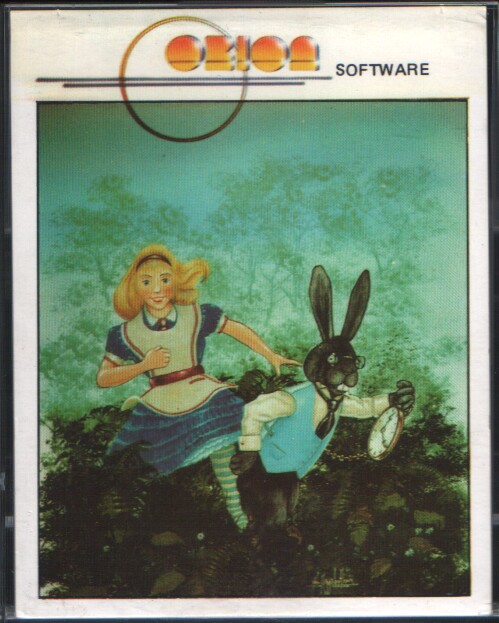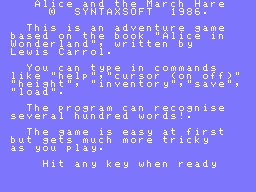 OPENING SCREEN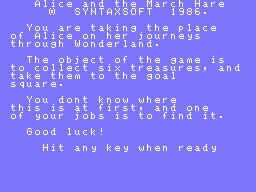 OPENING SCREEN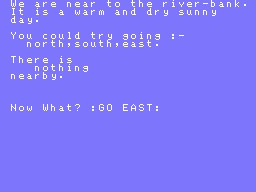 SCREENSHOT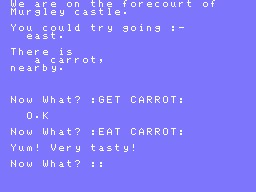 SCREENSHOT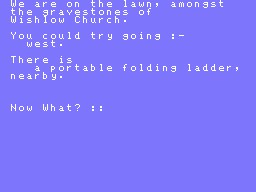 SCREENSHOT